The trip to Mandu happened in chilling winter when Delhi was freezing with cold and temperatures breaking 100-year record in the national capital, I got an opportunity to fly down to a warm, sunny and beautiful getaway far from the maddening city life. NDTV had asked me to cover the Mandu festival organised by the tourism ministry of Madhya Pradesh. It turned out to be quite a blessing that I lapped up totally.
Colourful roads laid with rangoli, warmly welcomed the tourists in Mandu festival. The carved entry points of the Dilli Darwaza and the Alamgir Darwaza pointed to the existence of an ancient town. The best part was it is not commercialised like other tourist places. So you feel an instant difference on landing here.
Mandu has a rich palatte drenched in history, soaked in the beautiful environs, aided by great connectivity. Excellent connectivity through Indore makes travel breezy and smooth. A two-hour drive from Indore is all it takes to transport you in this quiet and serene getaway.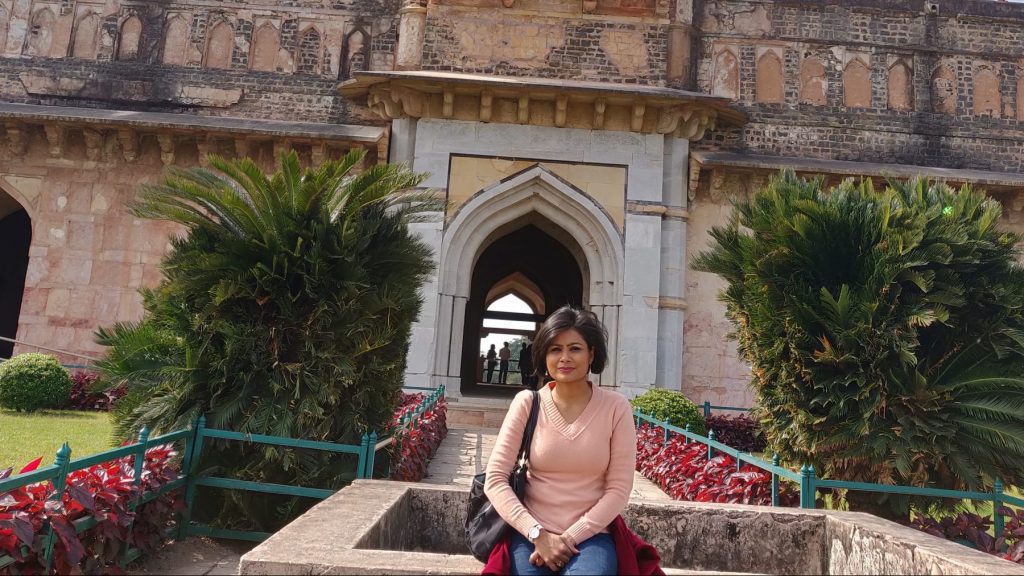 My first impression on arrival was of feeling refreshed, calm in clean surroundings and pure unadulterated air. It was a tourism festival, so the town was totally decked up with colourful buntings, banners and hoardings dotting every nook and corner of this sleepy town.
Mandu is famous for its historical places that take you back in the era of Mughal rule. The romantic tale of Rani Roopmati and Baaz Bahadur is fondly talked about here. Roopmati Mandap is the big draw among tourists here.
It offers inimitable view of Mandu's natural beauty laced in soothing greenery. It is the place where Roopmati, who is said to one of the most beautiful women of that time, visited every day to pay obeisance to the mighty Narmada river. It is called Roopmati Pavillion which is the highest historical place in Mandu. It is a very interesting love story that pulls people in droves. She was a gifted dancer who won the heart of Baaz Bahadur, who ruled over this place in the 15th century. She agreed to become his consort on a condition that she would have a separate place from where she could see and revere the Narmada river. He agreed and their love story blossomed. Later when Mandav was attacked by enemy army, Baaz Bahadur was killed and she committed suicide.
The historical Jami masjid is another place that charmed me with its architectural beauty and elegance. It is spectacular and boasts of being the biggest monument of Mandu. My guide told me that it said to be inspired by the mosque of Damascus in Syria. Jami Masjid bears significant footprint of Indian architecture as visible in the dominant Hindu motifs, engraved on the walls inside this monument, making it a beautiful example of Indo-Islamic architecture. Its a rare sight to see the kalash associated with the Hindu religion, adorn the domes of Jami Masjid here. It is said to be used as Diwan -e -Aam also at some point in time.
And now something that was a surprise package! I discovered the place that inspired emperor Shah Jahan to make Taj Mahal.
This is India's first monument made of white marble. It is adjacent to Jami Masjid and is Hoshang Shah's tomb which is said to have been made by Shah himself while he was alive. The beauty of contrasting colours with Hoshang Shah's tomb in white and the historic Jami Masjid in charcoal stands out.
If Mandu is called a heritage lover's delight, there's good reason for it. The tour of Jahaz Mahal was like a trip to a fascinating swing. Designed between two lakes, like a ship stationed between two water bodies. One of the more interesting aspect of this Jahaz Mahal is that this is said to be harem of Sultan Gyassuddin Khilji, housing more than 15000 women. He had a deep distrust for men and was always said to be surrounded by women. It is a mesmerising place to say the least. Its expansive beauty is to be seen to be believed.
But Mandu is much more than a historical city. Unforgettable experience of riding in a hot air balloon was something that will remain in my memory for long. We were a bunch of four people, me, my producer, cameraman and our pilot who had come from England to facilitate balloon rides here. No wonder hot air ballooning is quite an expensive ride for an ordinary visitor. It felt like I was gliding in air effortlessly consuming the beautiful sun rise, fresh breeze and beautiful pristine environs.
I witnessed a breath-taking sight at the Rewa-Kund, where Narmada river is worshipped by the devout. A bare-chested middle aged man was swimming with several big diyas while doing deep diving in the river, keeping one of his hand afloat so that the bright diyas would keep burning. This was an ultimate gesture of devotion I witnessed, in respect to Mother Narmada. The pandits were singing hymns, doing aarti in full fervour and splendor, but this man was the real crowd puller.
Mandu's story is incomplete without the colourfully decorated majestic trees, called the KHORASANI or the Imli ka ped locally. These trees are celebrated as they have a past as rich and ancient as Mandu itself. Called the Baobab trees world over, they are said to have a lifespan of over a 1000 yrs.
Originally from Africa, its seeds are believed to have travelled from Iran's Khorasan province to Mandu, centuries ago. These trees are an inseparable part of Mandu's life as the fruit of these trees or the Khorasani IMLI, floods the local markets, providing a source of livelihood to tribals. There were awesome sharifas or custard apples which were damn cheap as compared to Delhi. It just floored me and I bought many kilos wrapping in a cardboard basket to take back home.
What makes this place unique from other tourist places is that its clean, and untouched by the modernity of city life, retaining its quaint charisma. Historical beauty may be a highlight of Mandu, but its natural beauty is equally impressive, with several man-made lakes, lush greenery and old world charm that leaves one soaked and hooked, making it a memorable journey.
Discovering Mandu led me to the ART & CRAFT DISTRICT which was buzzing with artists who had come to display their wares here. Erected as part of the Mandu festival…. it wooed the visitors with shades of amazing creativity. Contemporary art with tribal instinct captivated the attention of visitors here.
Fun is incomplete without great food and there was a lot to feat the taste buds here as the food court dished out the choicest delicacies of Malwa , with cooks from Indore holding fort. The city of Indore is famous for its culinary treat and mouth-watering dishes. Some of these delicacies at the food park, soared the enjoyment quotient for tourists.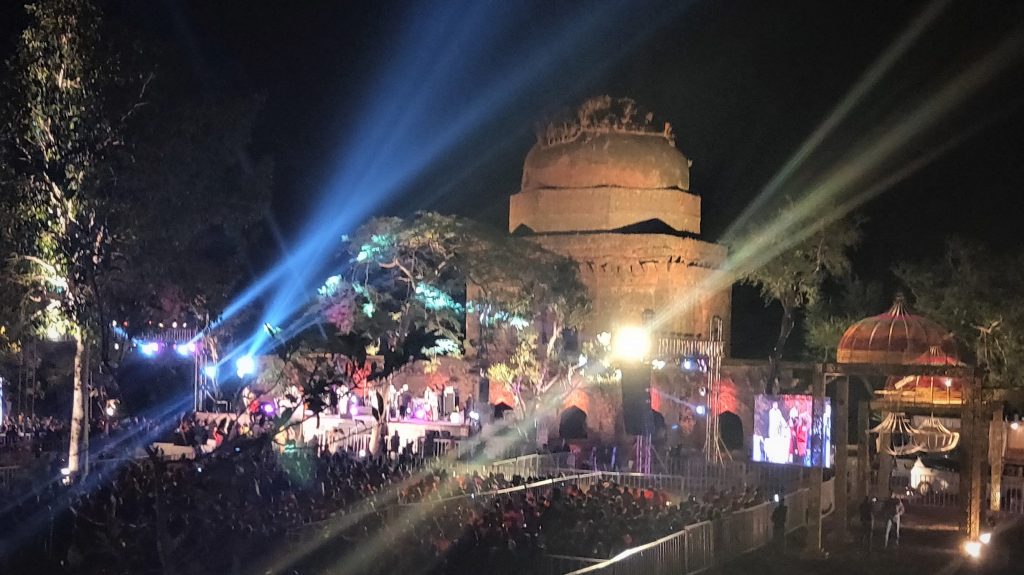 Cultural Evening with Music and Lights
And now the icing on the cake. The musical evenings organised at the Mandu festival had people grooving on popular numbers. Renowned bands to well-known singers entertained the tourists who flocked here from different parts of the country. The pulsating music chimed well against the backdrop of a historical monument on one hand and a serene lake on the other side. It was quite a sight, enjoying several shades of music in open sky against a historical background and everything just perfect for the moment.
Once the pride of Malwa, Mandu is fast emerging on the tourism map of Madhya Pradesh, which is often referred to as the heart of India. Its splendid history leaves you mesmerised with its glorious past. Imprint of heritage are visible on entering Mandu with every nook and corner having a unique story to be explored.